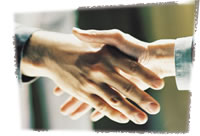 Dear Dr. Glass,
I just wanted to say "Thank You!!" for changing my life. Prior to your hypnosis, I was haunted for years after a situation at the Post Office. In 2012, I came "crashing down again" after being in therapy with another doctor for years. That is when he suggested the hypnotherapy with you.
With every ounce of gratitude, I thank you for 'freeing' me from my hurtful past.
I imagine that many of the people you treat, you probably never hear from again and you never know what became of them.
I am one of your success stories: Hypnotherapy works! I have my life back again!
When I read in the newspaper about the military people harmed with PTSD, I know what they are experiencing (although theirs had a different origin) I only wish and pray that what you do with hypnotherapy could help all of them. Living under a shadow of the past is crippling and painful.
Thank you for my freedom.
Carol D.
| | | |
| --- | --- | --- |
| | | |
| | Besides specializing in Divorce Mediation, Dr. Lydia Glass also runs her own private practice in Pasadena, California as a Clinical Psychologist and as a Marriage & Family Therapist. Dr. Glass has also been providing psychotherapy for over 25 years... (more) | |
| | | |
| | | |