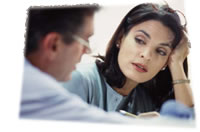 Recommended Reading By Lydia Glass
Lydia Glass has suggested the following books for both couples and professionals exploring the Mediation process. They provide excellent reading on issues of Divorce Mediation and other aspects of family disputes before, during and after a marriage or separation.

Books For Couples


"Does Wednesday Mean Mom's House or Dad's?":
Parenting Together While Living Apart
by Marc J. Ackerman
Paperback: 224 pages
Publisher: John Wiley & Sons; 1 edition (October 15, 1996)


Mom's House, Dad's House:
Making Two Homes for Your Child
by Isolina, Ricci, Ph.D.
Paperback: 381 pages
Publisher: Fireside; Revised edition (November 1997)


The Good Divorce:
Keeping Your Family Together When Your Marriage Comes Apart
by Constance Ahrons
Paperback: 320 pages
Publisher: HarperCollins; Reprint edition (June 1995)

Books For Professionals


Divorce Mediation
by Jay Folberg (Editor), Ann Milne (Editor), Jay Forberg
Hardcover: 508 pages
Publisher: Guilford Press; (May 20, 1988)


Getting to Yes:
Negotiating Agreement Without Giving In
by Roger Fisher, William Ury, Bruce Patton (Editor)
Paperback: 200 pages
Publisher: Penguin USA (Paper); 2Nd/Rep edition (December 1991)

If you would like to suggest a book or would like additional recommendations, please contact Lydia Glass at lydia_glass@msn.com and she will respond to your request.

| | | |
| --- | --- | --- |
| | | |
| | Besides specializing in Divorce Mediation, Dr. Lydia Glass also runs her own private practice in Pasadena, California as a Clinical Psychologist and as a Marriage, Family, and Child Counselor. Dr. Glass has also been providing psychotherapy for over 25 years... (more) | |
| | | |
| | | |